Krish – World record holder in long-duration of drawing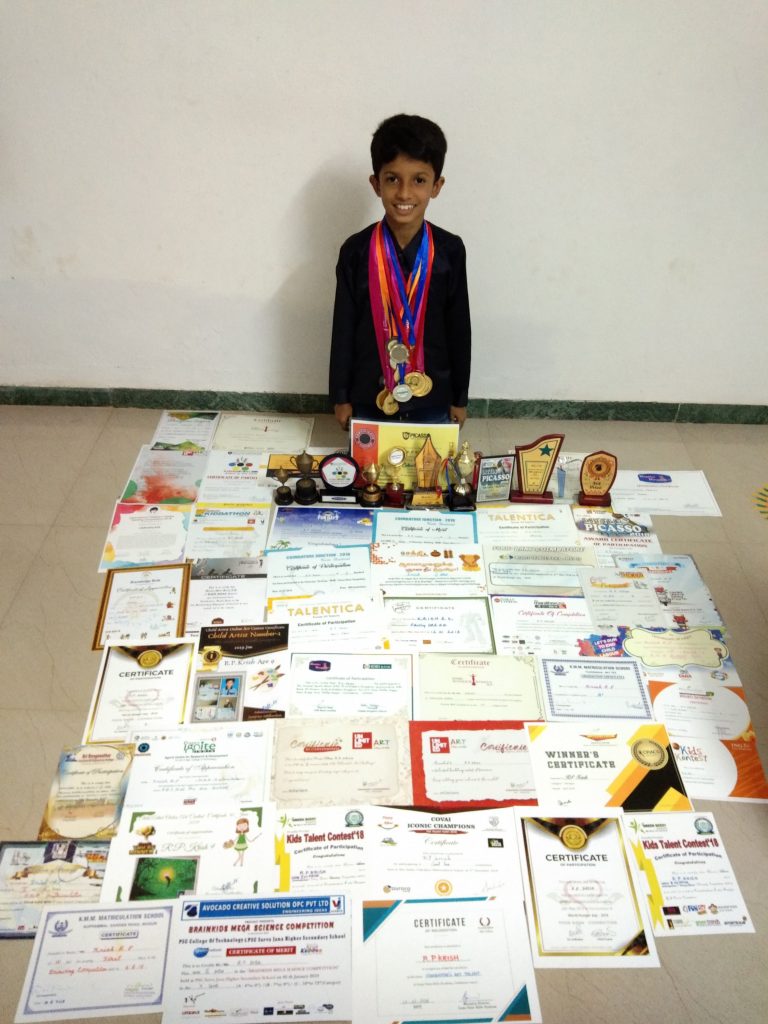 Creativity comes naturally to kids. The levels may vary but every kid has the ability to do something new. It happens specifically because of their brain cells growth. So, parents should allow their kids to do and learn new things. It may end up a lifetime journey for the little champs. Krish, the world record holder in the drawing is one such example. What started as a playful activity to draw whatever he see, turned out and earned him a world record. But drawing is not the only skill Krish has in his arsenal.
The Spark:
Krish was like any other normal kid around us. But he was scribbling things at a very young age. Even his colouring skills surprised his mother, Revathy. One day, during his pre-KG, he went for an inter School level Memory power competition and won the first prize. Revathy found her son's talent, decided to spend time in nurturing him. Since then, she took his son to various competitions. Krish has exposure to a variety of contests than many other kids. His biggest strength is sportive mind and the curiosity to learn things.
The Curious kid:
Unlike most kids, Krish prefers to explore or do experiments rather watching TV. He is more inclined towards learning things. Any of his friends visit home, he made them do something useful or teach them new things. He loves art and crafts work. He faced a lot of failures at initial stages in competition but learned to enjoy the process and gave his best.
The Inspiration:
He is inspired by the great Dr A.P.J Abdul Kalam ayya, and his golden words are fuel for Krish's journey. He wants to achieve greatness in his life. As Dr Kalam sir told, he is dreaming big and working hard to become a great person in his life. He won a lot of competition is drawing, carrom, fancy dress, handwriting and so on. He also won drawing competition conducted by Food Bank Coimbatore and received the Award from IPS officer. He cherishes that moment as the best in his life. His mother is clear about not to pressurize him for better academic performance. Instead, she is focusing more on developing his talents and skills.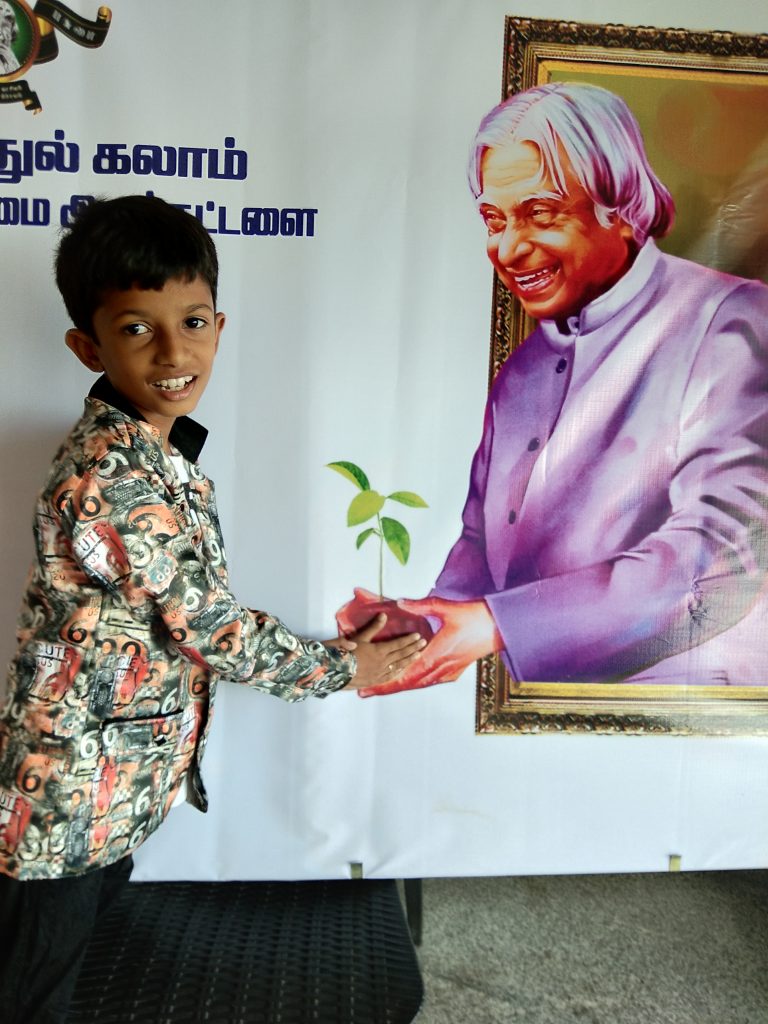 World Record:
Krish and his mother were planning a world record attempt. They approached the kalam book for records. It was an 8 long hour of continuous drawing. He covered a wide range of topics which includes Save trees, No food waste, Save electricity, Avoid disposable plastics, Don't pollute the earth, Stop global warming, Stop child abuse and so on. Since the topics are relevant to the present situation, his record attempt gained a lot of attention across the country. The Kalam Book for Records provided him with the world record title for a long duration of drawing.
He also received the "Saadhaniyaalar virudhu"(achievement award) from Dr A P J Abdul Kalam Trust for Educational and Greenery. Krish loves the craftworks too. He watches online videos and tries new things. He built several craftworks within a short span of time.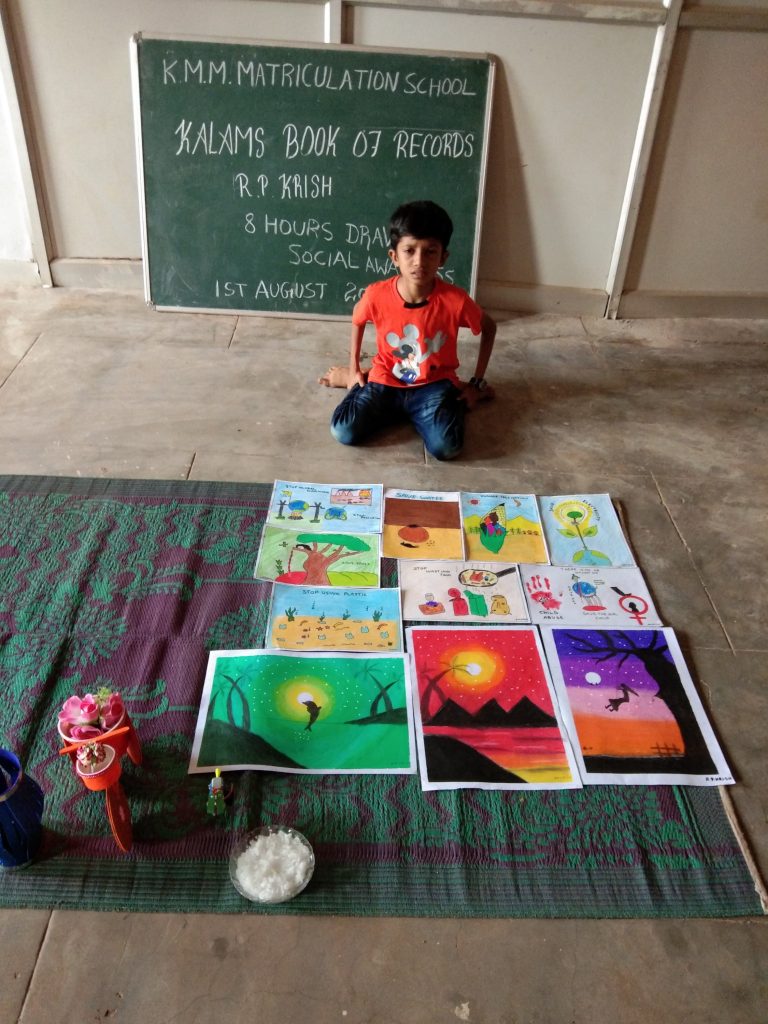 The best part of his achievement is, he bought many gifts for his mother with the prize money. He even conducts Hindi tuition for same age kids in his area as a support for another teacher. Krish is a bright kid who is curious to learn. He believes if everyone put enough effort, it is possible to achieve greatness.
Final thoughts from Revathy:
Never compare your kids with others. Every kid is unique and parents must find natural talent. Small, casual discussion with your kids can change their life for good. Never say no to your kids who come to you with interest to talk or share something. One such incident changed Krish life. It could reveal your kid's talent too. Pay attention and never discourage your kids.
Contact Us For Your Story